International Data Week Sponsorship and Exhibitor Opportunities
We are delighted to announce the International Data Week 2023: A Festival of Data, taking place on 23–26 October 2023, in Salzburg, Austria.
IDW 2023 features high-level speakers, keynote addresses and panel debates, which bring together a global community of data scientists and data stewards; researchers from all domains; data, interoperability and informatics experts from all fields; industry leaders, entrepreneurs, and policymakers. This event is an inclusive and celebratory Festival of Data, with in-person and virtual components, highlighting the opportunities for the positive transformation of our world in the light of the COVID-19 pandemic and other global challenges.
More information on the program and agenda can be found online: https://internationaldataweek.org/idw2023/programme/
This is a unique opportunity for organizations to connect with this diverse audience and support the international data community. Through the support as a sponsor, organizations can leverage their international visibility and position themselves as key players and partners for shaping the future of data science, and gain access to this wide community.
Your participation and contribution will allow you to promote your organization, while giving us the generous support we need to deliver a successful and productive event for the hundreds of researchers, industry leaders, entrepreneurs, and policy makers who will join us from all over the world.
The event is organized by the International Science Council's Committee on Data (CODATA) and  World Data System (WDS), and the Research Data Alliance (RDA) and hosted by the University of Salzburg's Faculty of Digital and Analytical Sciences with the help of Salzburg Congress and Salzburg Convention Bureau. The event is supported by the Governor of Salzburg and with assistance from the Austrian Academy of Sciences – GIScience (ÖAW) and the European Umbrella Organization for Geographic Information (EUROGI).
We offer several sponsorship packages, please see an overview of the benefits below or download the info as pdf-file. 
If you are interested in a custom package, please contact Christoph Moosbauer at idw2023@plus.ac.at
Customized sponsorship opportunities include but are not limited to travel & participation support of LMIC- and/ or student attendance, sponsorship of coffee breaks or social events.
Overview of sponsorship opportunities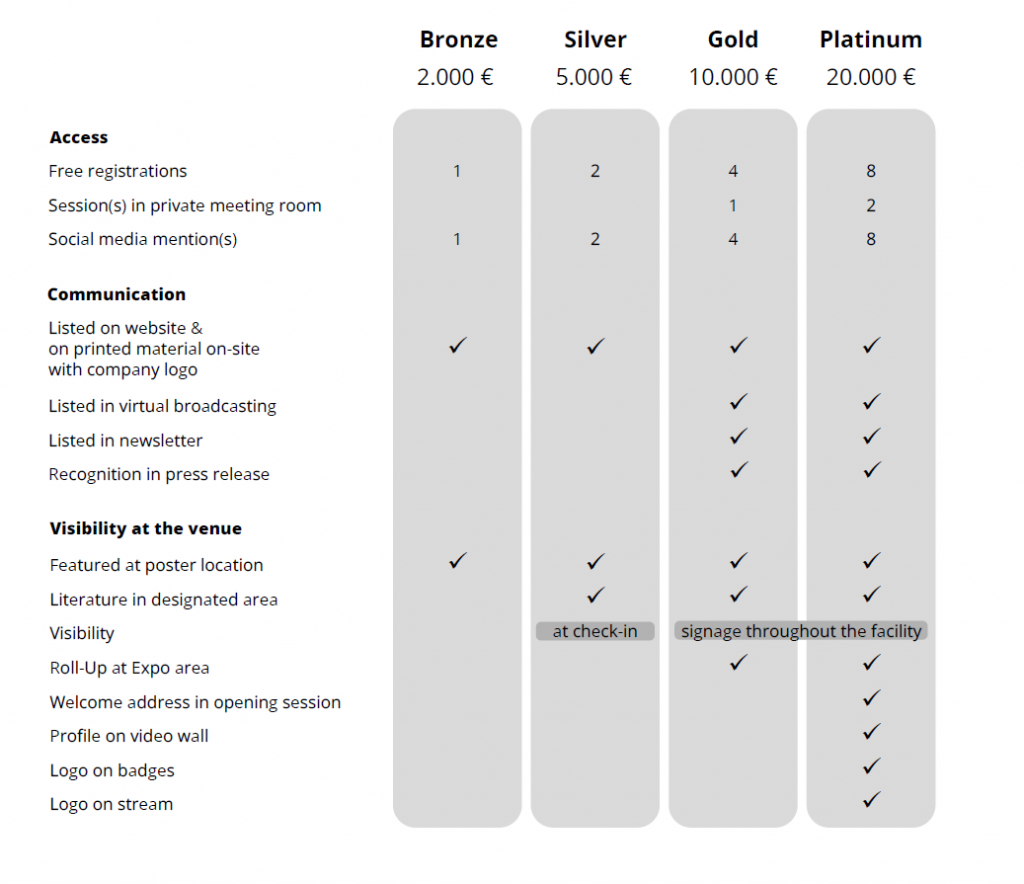 Exhibitors welcome
Looking to present your company to a group of approx. 600 international participants from the field of Data Science? Then become an exhibitor at IDW 2023!
The EXPO will be an integral part of the conference and is positioned at the heart of the venue, close to the coffee break area. These breaks will be an excellent opportunity to network with experts from different backgrounds and experience levels.
The EXPO will run from Monday, October 23 – Wednesday, October 25, 2023.
Exhibition Package
IDW Expo Basic Package 2.700 € including:
Rental of the booth space with approx. 6m2, equipped with one table & two chairs
General lighting of exhibition foyers, power supply and WIFI
General basic cleaning of booth area
Additionally, exhibitors receive:
1 free registration for IDW2023
Entry in the list of exhibitors on website and in program agenda
We assure that the booths will have a good visibility, for all conference visitors, since the poster session and many conference breaks will take place in the exhibition foyer
Interested?
Download & fill out the booking form (p. 4) and return it to Christoph Moosbauer (idw2023@plus.ac.at)