Prof. Arne Bathke
Arne Bathke is professor of statistics and Dean of the Faculty of Natural Sciences at the University of Salzburg, Austria. After obtaining his academic degrees from Göttingen University, he worked at the University of Kentucky where he founded the Applied Statistics Laboratory, an on-campus consulting and statistical collaboration unit. At Salzburg, he initiated the first Austrian Data Science Master's curriculum, which runs since 2016 and currently has more than 100 students.
His methodological research is mostly in nonparametric statistics, inference for multivariate data, and asymptotics. Besides, he has been collaborating with colleagues from computer science, education, biology, agriculture and plant sciences, medicine, and other fields. He has received several awards, including for teaching and for civil engagement, and has recently been elected president of IBS-ROeS. In addition, he is executive editor of the Biometrical Journal since January 2020.
Prof. Josef Strobl
Josef Strobl is professor and head of the Interfaculty Department of Geoinformatics – Z_GIS at the University of Salzburg, Austria. He holds Geography degrees from the University of Vienna and has developed research initiatives in terrain analysis, spatial data infrastructures and spatial simulation. Based on international curriculum development experience he leads graduate programs in Geoinformatics as well as the UNIGIS network of transnational distance education programs (www.unigis.net). He is a member of the EUROGI Executive Committee and serves on the boards of numerous other international associations. Josef Strobl has established the Research Studio 'iSpace' within the Research Studios Austria Gmbh, and as a full member of the Austrian Academy of Sciences (ÖAW) chairs the ÖAW Commission for Geographic Information Science. As the founder of the annual AGIT / GI_Forum Geoinformatics symposia he always looks forward to meet friends and colleagues at these and other events! Further details:  https://www.linkedin.com/in/josefstrobl/
Dr. Bernhard Zagel
Bernhard Zagel is senior scientist and division head at the Interfaculty Department of Geoinformatics –Z_GIS at the Universität Salzburg, Austria. He holds academic degrees in Geography and Geoinformatics and head of the mobility research group at the department. His research focuses on the intersection between geographic information science and mobility. He is interested in the geospatial dimensions of transportation and the implications of human mobility and accessibility for sustainable transportation and livable communities in the smart city context. 
Besides his research he is a lecturer at the University of Salzburg and the UNIGIS distance education programs. As the coordinator of the annual AGIT / GI_Forum conference since 2006 he always looks forward to stimulate new fields of geoinformatics and meet friends and colleagues at these events! In addition, he is co-editor of the AGIT Journal of Applied Geoinformatics since 2015. Further details: https://www.linkedin.com/in/bernhardzagel/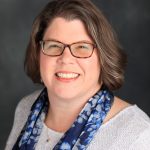 Meredith Goins
Meredith Goins joined World Data system with over two decades of management and leadership experience in working with state, federal, and international scientific and academic organizations.  She graduated from the University of Tennessee with a Master's in Information Science and from East Carolina University with a bachelor's in communication. Meredith's research interests include subject matter experts' opinions and habits around peer review, particularly grant funding reviews and data repository certification reviews.
Simon Hodson
Simon Hodson has been Executive Director of CODATA since August 2013.
Simon is an expert on data policy issues and research data management. He has contributed to influential reports on Current Best Practice for Research Data Management Policies and to the Science International Accord on Open Data in a Big Data World.  He chaired the European Commission's Expert Group on FAIR Data which produced the report Turning FAIR into Reality https://doi.org/10.2777/1524. He is currently vice-chair of the UNESCO Open Science Advisory Committee, tasked with drafting the UNESCO Recommendation on Open Science, which is intended for adoption in November 2021.
As a significant part of his CODATA role, Simon is tasked with preparing a major ISC and CODATA Decadal Programme on 'Making Data Work for Cross-Domain Grand Challenges', which will improve the coordination of specifications for data integration and interoperability for interdisciplinary research.  Simon also contributes to the coordination of the CODATA Data Policy Committee.
Hilary Hanahoe
Hilary Hanahoe was appointed Secretary General of the Research Data Alliance (RDA) in February 2018. Her responsibilities include leadership of RDA's membership, effective management of the RDA organization and its legal entity (RDA Foundation), engagement with RDA funders, stakeholders and organisations, and sustainable stewardship of the dynamic, active, and high-impact community of over of over 11,000 individual members from 145 countries worldwide, together with over 60 organisational members. Hilary is responsible for the financial and organisational sustainability of RDA on an international level and is the CEO of the RDA Foundation offices (Global and Europe). She works closely with the RDA Council and all governance boards and members of the RDA community. She is passionate about the work of the Research Data Alliance and its vibrant, volunteer community working to enable the open sharing and reuse of data.