Registration for IDW 2023 is open until Friday, 20th October 2023!
International Data Week 2023 (IDW 2023) is planned as a hybrid event and will take place in Salzburg, Austria from October 23 – 26, 2023 at the Salzburg Convention Center, located in the heart of the city.
On-site and online participation 
For the full conference experience, we strongly encourage you to join in-person in Salzburg, also to meet colleagues and form new connections. However, we do understand that traveling might not be possible for everybody. In addition to on-site participation, we therefore also offer the possibility to join IDW2023 online.
Registration process & fees
2-step registration process:
We use ConfTool  as the conference management platform. Access the registration at: https://www.conftool.pro/idw2023
Note that the registration process requires two steps to complete: (1) create a user account, then (2) register for the conference. The registration is completed once you have received a system-generated payment confirmation via ConfTool.
Payment methods
Tickets are charged in EURO. You can make your payment via bank transfer or PayPal. While PayPal payments will be confirmed automatically, bank transfers need to be checked manually. Therefore, please allow up to 10 business days to receive confirmation for your payment via bank transfer. The organizers do not cover any fees that might be charged by your bank when making an international money transfer.
Should you, for any reason, not receive a system-generated confirmation – or have any questions regarding your registration – please send an email to idw2023@plus.ac.at. Thank you.
Please consult the Terms of Service for detailed information about cancellations, privacy rights and data protection, the conference materials as well professional conduct.
Registration deadlines
July 01– September 15, 2023                      Early Bird registration for on-site tickets  NOW CLOSED
July 01 – October 20, 2023                           Online tickets available for a fixed fee
September 16 – October 20, 2023               Full fee registration for on-site tickets
October 20, 2023                                          Registration closes at noon (CET), on-site ticket sales available at full fee
October 22 – 27, 2023                                  On-site registration at full fee
Invitation letter for visa support
Please note that the organizers do not facilitate a formal visa application process on your behalf; obtaining the right visa to attend IDW2023 is your responsibility. After registration and payment for the event, you will be able to print an invitation letter, which can be used to request a visa, stating that you are invited to attend the conference. Should you need a more detailed confirmation other than what is provided via Conftool, please get in touch with idw2023@plus.ac.at
Ticket categories & fees
Registration is open until noon CET on 20th October 2023
Access to social events (esp. musical evening) is based on availabilty.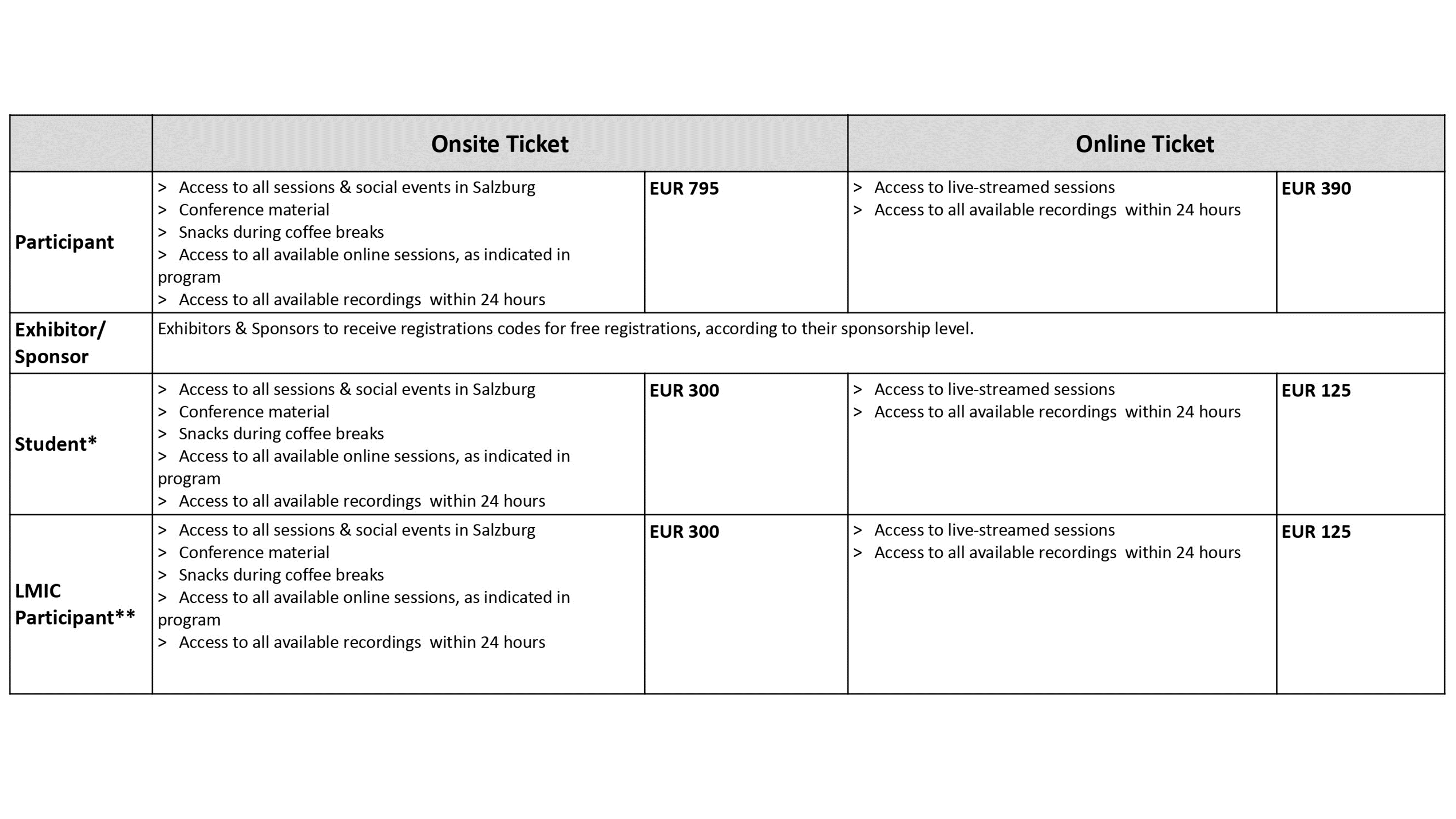 *Proof of matriculation required upon registration.
**LMIC (Low & Lower middle-income countries based on World Bank definition). Proof required upon registration.
Upgrade possible
In case you have purchased an online ticket but decide to travel to Salzburg, you can upgrade your ticket by paying the difference (based on overall availability of seats). Please get in touch with idw2023@plus.ac.at
Cancellation
If the cancellation is received by September 22, 2023 (23:59, CET), an 80% refund of the registration fees paid will be granted. The remaining 20% of the fee contributes to administration costs incurred.
Notifications received after September 22, 2023 (23:59, CET) are not refundable.
In case of a no show without any notice received, the organizer will keep the entire fee.
Visa application denial: 
If your visa application is unsuccessful, you may cancel your registration where 80% of the registration fees will be refunded. The remaining 20% of the fee contributes to administration costs incurred.
Cancellations will be accepted only if you have an official letter of visa rejection from the respective embassy or consulate. All cancellations must be submitted in writing with your visa rejection letter and invoice number before October 08, 2023 to idw@plus.ac.at.
Terms of Service lists detailed IDW23 cancellation policy.